Global ToC results of Shonen Jump's manga (2017)
Posted by Kazuma kun - 2017/11/25
What is the ToC ranking?


ToC stands for Table of Contents. It's found on the last page of every issue of WSJ, but more importantly, the order the series appear in on the ToC is closely related to the popularity of the series. This is determined by polling the readers; there is a polling postcard in every issue of WSJ.
Let's take a look at how the series have fared this year.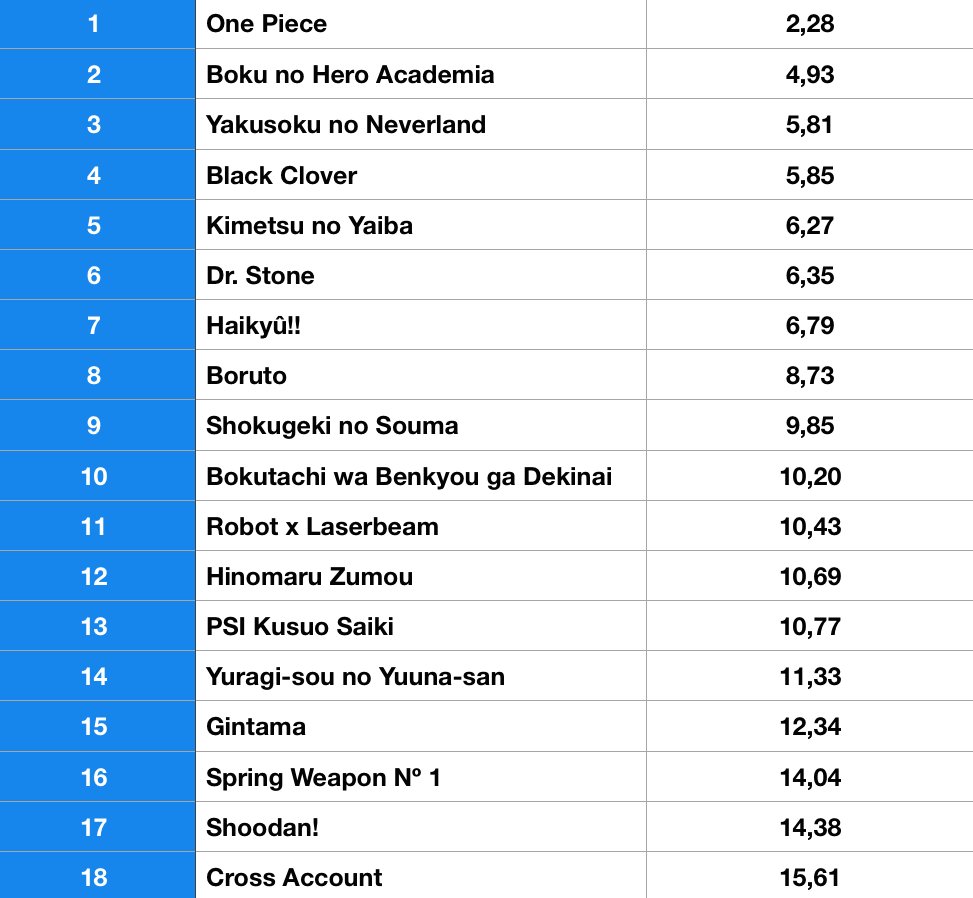 via @AshitanoGin (Twitter)
Related Posts
"No Game No Life -Zero-" Film Teaser Confirms Release in 2017
---
The official website for the anime adaptation project which is based on Yuu Kamiya's fantasy light novel series "No Game No Life" released a 30-
Spring 2017 - Period of Light Novel Adatptations
---
If you like light novels then spring of 2017 will be the best period you could have hoped for! There will be eight light novels adaptated into an
First trailer for "Overlord's" compilation film has been released
---
Today 30-seconds trailer for upcoming compilation film of Kugane Maruyama's light novel "Overlord" has been posted on it's official website.
About Us
Anime Corner is a unique anime community platform, finding originality in being able to provide anything the general community has to offer. We provide everything ranging from up-to-date anime news, useful reviews and recommendations, cultural content, cosplay, and fanart. Our website features a variety of different content, and provides insight about every corner of the anime culture. Through Anime Corner, all of these aspects of the community will be brought together under a single platform.
Join other anime fans in the Anime Corner community at facebook.com/AnimeCorner.Official and twitter.com/animecorner_ac